Mumbai has amended its 24-year-old building rules that allowed slums to mushroom and kept housing beyond the reach of most of its 19 million residents.
The island-city, which has little land available for development, is proposing changes to its Floor Space Index (FSI) regulations that may permit developers to tear down old structures and build taller towers. This may be good news for companies including Oberoi Realty Ltd, Sunteck Realty Ltd, Peninsula Land Ltd and Godrej Properties Ltd, according to Edelweiss Financial Services Ltd.
The plan for the world's second-most densely populated megacity after Dhaka is part of Prime Minister Narendra Modi's "Housing for All" programme, which seeks to build 20 million homes across India by 2022 to help eliminate urban slums and squalor. In theory, the move should increase the supply of apartments, cut property prices and help India's financial capital emulate wealthy peers including New York and Shanghai.
Mumbai's last Development Plan, released in 1991, prescribed an overall FSI of 1.33 in the island city and 1 in the suburbs. The new plan proposes to allocate a larger FSI of 3.5 to more than half the city (58% of it), and of 5 to a sizeable 31.8% of Mumbai. In specific zones closer to major railway stations and employment nodes, the proposed FSI has been raised to 6.5 and, in some cases, 8.
Mumbai's Top 5 supertall in making
Lodha World One ( 442 metres, 117 floors )
World One is a supertall residential skyscraper under construction in Mumbai. It is located in Upper Worli within Mumbai on the 17.5 acre defunct Shrinivas Mill site. The project will cost INR20 billion (US$310 million) and is expected to be completed in 2016, becoming the world's tallest residential tower.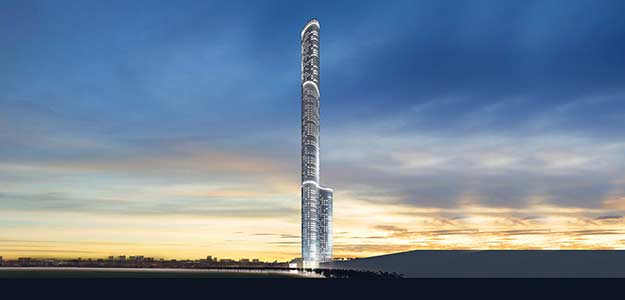 World One's architect is Pei Cobb Freed & Partners and the structural engineer is Leslie E. Robertson Associates. Apartment prices in World One start from INR75 million (US$1.2 million) with the most expensive being as much as INR500 million (US$7.9 million), while Lodha Group anticipates total revenue of INR50 billion (US$790 million) from the sale of these apartments
Palias Royale ( 320 meters, 75 floors )
Imperial Towers ( 256 meters, 61 floors )
India Tower [ On Hold ] ( 720 meters, 125 floor )
Bhendi Bazaar Redevelopment Plan
Thank you for reading.
For suggestions - twitter.com/chai2kul
This blog post is inspired by the blogging marathon hosted on IndiBlogger for the launch of the #Fantastico Zica from Tata Motors. You can apply for a test drive of the hatchback Zica today.