Bitcoin uses peer-to-peer technology to operate with no central authority or banks; managing transactions and the issuing of bitcoins is carried out collectively by the network.

Bitcoin is open-source; its design is public, nobody owns or controls Bitcoin and

everyone can take part

. Through many of its unique properties, Bitcoin allows exciting uses that could not be covered by any previous payment system.
Bitcoin is second only to gold on the list of topics guaranteed to arouse the wrath of the Internet trolls. Yet relentless promotion can't hide these facts: The digital currency peaked at a value of $1,130 just over a year ago. Its plunge of more than 56% in 2014 makes it the world's worst performing currency this year, according to Bloomberg, which tracks 175 foreign-exchange values: Bitcoin claims to provide Web buccaneers with a secure store of value free from the risk of government confiscation or interventionist devaluation, making it the currency of choice for old-fashioned money-launderers and modern-day snake-oil salesmen.
RBI Governer Raghuram Rajan's take on Bitcoin
Raghuram Rajan, governor of the Reserve Bank of India (RBI), said digital currencies such as bitcoin would be helpful in the transition towards a cashless society, as they become better and safer in the future.
Rajan said the digital currency is "fascinating", despite apparent drawbacks.
"I think we are still watching the evolution of these kinds of currencies," he said.
"One of the problems that we envisage with bitcoin is security issues. You've seen that it is not as secure as people thought they were and there have been stolen bitcoins and so on."
"But the second issue is the fluctuation in value. For money you require a stable store of value. Something that fluctuates so much is less effective for use as money."
However, Rajan noted that the technology used in digital currencies is promising, and they will become safer and better in future.
"Some of them are useful, some of them are worrisome and we have to see how we take on such technologies," he said.
"I have no doubt that down the line we will be moving towards primarily a cashless society and we will have some kinds of currencies like this which will be at work."
"Over time they will be a form of transaction, that's for sure."
He added that central banks across the globe could one day embrace a digital currency system.
The RBI, like many of its peers across the globe, has earlier issued warnings about the use of digital currencies. It advised customers to exercise enough caution before using them as an investment and a mode of payment.
BTCXIndia is India's real time bitcoin exchange
India now has a full and compliant bitcoin exchange called BTCXIndia – also featuring a live trading platform and wallet service – which launched officially on 5th May 2014 in the southern city of Hyderabad.
It's a significant step for the country's bitcoin economy as its previous exchanges, some of which operated as fixed-price buy-sell platforms, lived with a degree of regulatory uncertainty since a series of government warnings and raids on bitcoin businesses in December and January.
BTCXIndia currently has 10 staff members, working in development, customer services and compliance. Investment comes via a UK company that has funded the exchange for at least one year, and is also working as a strategic advisor to the management team.
BTCXIndia keeps the absolute majority of the coins it holds in cold offline storage, and is also working on a proof-of-reserves implementation and "other interesting features" to reassure customers their funds are always 100% safe.
Meet Zebpay, India's first mobile Bitcoin wallet
It is the first mobile Bitcoin wallet in India and perhaps the simplest in the world. Its goal is to get more people to use Bitcoins and in order to do so, avoid all the confusion that comes with it. Registering and creating your wallet is as simple as verifying your mobile number through an automated message sent to the mobile.
Currently, Zebpay is going to allow users to buy Flipkart coupons and similar other things from the app. Unlike PayTM though, Zebpay is not bound by the rupee. The Zebpay app is a global app, which means you can use it for transactions worldwide, wherever Bitcoins are allowed. That obviously makes for a select few places, but it's a start nevertheless.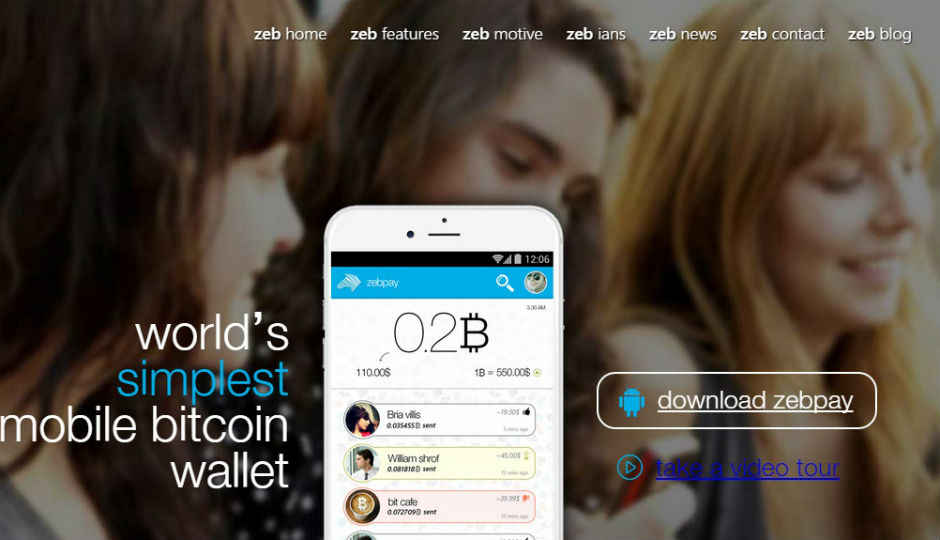 The app itself is very simple to use. The Android app can be downloaded from the

Play Store

, while Zebpay has already submitted the iOS app to Apple as well. Once downloaded, the user undergoes a WhatsApp like verification process, where a text message is sent to his/her mobile with the verification code. This completes the verifications process. Currently, adding Bitcoins will require you to create a wallet on iGot.com, but Zebpay plans to allow this through the app itself. The company will ask for a KYC from the customer, following which one can buy Bitcoins directly through the app.
One thing that the three founders often reiterated at the launch was the Zebpay is a 'spend wallet'. This means it is intended to be an electronic version to your physical wallet. Just like we keep the bulk of our money in the bank and carry around physical banknotes for our regular expenses, Zebpay wants you to keep the bulk of your Bitcoins in cold storage, while only the amount you need for regular activities should be carried around in the wallet.
Bangalore-based exchange

Unocoin

launched

in December 2013 during that city's first bitcoin conference, saying it intended to be fully compliant with customer verification procedures and other regulations.
On 24th December, however, the Reserve Bank of India (RBI)

issued a warning

that Unocoin and others like it were operating without approval, causing the exchanges to cease all services as a precaution.
Ahmedabad's

Buysellbitco.in

was

raided

and information service

CoinMonk

received a visit from tax officials

seeking

more information. Unocoin, owned by the same group as CoinMonk, came

back online

in the first week of January, however, and is still in business.
Top 5 countries for Bitcoin Download
Next big thing
In December, the bitcoin community turned to India as its next great hope after Chinese government statements caused the

price

to drop from its record high of $1,200. India is an emerging economy with a population of over a billion people, nearly half of whom are unbanked or under-served by banks.
It also receives around $70bn in overseas remittances per year, making up 4% of its GDP. Together with its roughly 250m Internet users and a proclivity for high-tech industry, India would seem perfect for the introduction of a breakthrough financial technology like bitcoin.
Reads related to the article
http://www.huffingtonpost.in/2015/02/02/indian-bitcoin-trest_n_6592792.html
http://in.reuters.com/article/2015/03/12/bitcoin-ibm-idINKBN0M82K920150312
http://www.businessinsider.in/The-future-of-Bitcoin-is-China/articleshow/46535180.cms
Follow me at twitter.com/chai2kul