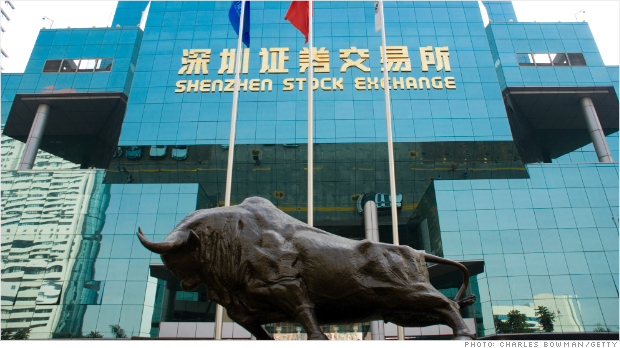 The global financial markets are still awaiting a bounce back from the global financial crises. A stock market from the city which you might have not heard is making miracles. The Shenzhen stock market in China has rallied over 175% in last few months. The Shenzhen Composite index is up by 100% of a year to date basis. The other counterpart India recently elected its new decisive leader Narendra Modi. Indian Stock Index like BSE Sensex has grown by just 13% in 2014. No where in the world, stock markets see 100% plus increase, its crazy. Shanghai Stock Exchange has also seen phenomenal growth rate. It is up by 140% since May 2014.
Out of 17000 listings, less than 10 are running in yearly negative. If you compare Shenzhen and Shanghai with New York, this how the charts look like.
There is so much interest in the investors that BNP Paribas estimates that 170000 new trading accounts are opened every day. Markets in China have spiked this year even after the economy is poised to grow at 7% which is the lowest after 2008. Investors are confident that Beijing will turn things around. The Central Bank has cut the rates consistently. Economists expect to ease more things in coming months.
103 stocks stocks in Shenzhen Composite reported 300% plus earnings, while the average market capitalization has increased to $3.5 billion says Bloomberg.
Best Performing Companies in Shenzhen Stock Exchange
Beijing Baofeng Technology Ltd recorded growth of 3821%
1800% growth in 52 weeks
A 3000% increase in stock also means volatility. BBC reported that a Chinese millionaire lost $15 billion in one hour. These stock exchange can make fortunes and destroy fortune. A stock market which doesn't give a shit about global slowdown, EU/Fed Decision, Oil prices, slowing China IIP Data might be unfair and speculative. A 500% growth stock market, yet unheard by world. The stock bubble will bust soon.
By - Chaitanya Kulkarni
Twitter - @chai2kul