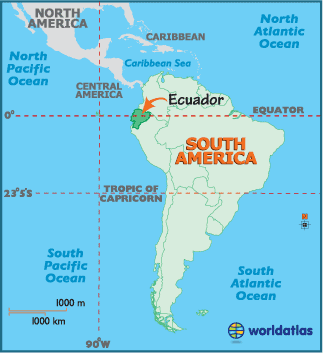 Ecuador is known for its oil, coffee, bananas, flower. Mostly known for the liquid gold - Oil. Ecuador's economy is the eight largest in Latin America and experienced the growth rate of 4.5% in the last decade. The unemployment rate has dramatically decreased to 17% from 40% in a decade. Oil was first discovered in 1960s and the proven estimate of crude under the land is around 6.51 billion barrels. Oil accounts for 40% of Ecuador's export and contributes for the positive trade balance. But things have become complicated since the oil fall. Oil has reached $60 per barrel and this is leading Ecuador towards systematic risk.
After the Banking crisis in 1999, the central bank decided to adopt US Dollar as Ecuador's official currency. The rise in the valuation of USD is hurting the economy too. According to rating agency Standards & Poor's, Ecuador's budget deficit stands at 4.7% and some economists say that it may reach as high as 7%.
Large Public Spending
The newly built Quito International Airport
The oil dependency has helped President Correa to spend on massive public infrastructure. A gleaming new airport, four lane highways, BRTS systems, Metro and rising skyscrapers makes Correa one of the most loved leader in Latin America. Most of its public spending comes from oil hungry nations like China and the United States. Ecuador has borrowed $11 billion from China since 2008 in return of a guaranteed assurance of 90% of its oil export to China.
China has become Ecuador's second largest oil investor with large investment in oil refineries and mining projects. But we need to understand that China's economy is in trouble too over excessive public debt. A weaker China means trouble for Ecuador's economy. Ecuadorean citizens seem happy with President Correa for the new public infrastructure but weaker oil, China's fall and the rise in USD puts the economy in the dangerous spot. How long does Ecuador's good times times last? Well it all depends on oil. The future of Ecuador seems uncertain.
By - Chaitanya Kulkarni
Contact with the writer - twitter.com/chai2kul
Thanks for reading. Share The Indian Capitalist to your friends and enemies.